Every month or so, Kimberly Mackey sits down with top industry leaders and masterminds to have an in-depth discussion on the hot topics related to building your business, managing your pipeline, technology trends, sales and sales processes, and anything related to the overall customer experience.
Not a webinar, not a podcast, just head to head, no holds barred discussions, where you can participate and get the answers to the questions you have about the evolution of new home sales and the homebuilding industry. This is your opportunity to be more than a fly on the wall when two industry masterminds get together!
You can register for one or for all of them so that you never miss out on whoever is "dropping by" and the hot topics we will cover. Live viewing is the way to go for these so that you can interact and get your questions addressed; however, we will record them if you have to miss one or two, you can still watch the recording.
Here's the plan for the rest of 2021:
October 12th–Jeff Shore and I are going to Explore the Buying Process Through the Eyes of the Customer.
November 9th–Meredith Oliver is stopping by, so that we break down the lessons of 2021 and prep for 2022.
December 7th–Angela McKay will join Kimberly to discuss how to fit everything into an ever increasing schedule and still have time for a life. We all need this one!


Our guest on September 14, 2021 was Leah Fellows, from Blue Gypsy, Inc., If you feel stressed or overwhelmed, perhaps just tired, this is the one for you. Learn how a few small steps can have a huge impact to put you back in the driver's seat. "How an Abundance Mentality Can Restore Order to Your World." If you missed it LIVE, click HERE to watch the recorded version.

On August 10, 2021 the one, and only Mike Lyon, from Do You Convert joined Kimberly so we can all learn what it takes to "CREATE THE ULTIMATE OSC/ON-SITE TEAM."  No matter how you slice it, the parts have to add up to the whole. We discuss the skinny from the online sales counselor position all they way through to the hand-off to the sales team. If you missed it LIVE, click HERE to watch the recorded version.

On June 22, 2021, Leah Turner, from Melinda Brody and Co. stopped by to go Head-to-Head with Kimberly. Our topic was, "The Top 10 Sales Mistakes That Most Salespeople Make." We had a fantastic time and we promise, you can't make up this stuff! IT HAPPENS!  It is always good to learn from other people's mistakes, right? If you missed it LIVE, click HERE to watch the recorded version.

On May 11, 2021, the one and only Quint Lears, from NewHomeSales.com stopped by to do a deep dive into how personality types affect your communication styles and how you relate to others. Quint uses the Enneagram method to help him and he is going to demystify that approach to help you as you navigate the complicated world of varying personality styles you encounter every day. If you haven't seen Quint yet, you don't want to miss him! Quint never disappoints and left us with a lot of food for thought. If you missed it LIVE, click HERE to watch the recorded version.

On April 13, 2021, Kimberly went Head-to-Head with Roland Nairnsey, from New Homes Sales Plus. Prices are going up, and you have limited availability on what you can even sell–why don't these buyers understand what is happening? Why do they still try to negotiate with you? You try to understand, but the relationship seems more forced than in the past. How can you help your buyer's into their dream home, maintain customer satisfaction, and still help your buyers to deal with all the unforeseen challenges and delays that are sure to come? We've got you covered. Spend an hour with Roland and me, and we promise to give you some tools to manage the madness! You and your buyers will be glad you did. If you missed it LIVE, click HERE to watch the recorded version.

On March 16, 2021, International Speaker, and world traveler, John Palumbo joined Kimberly for Head-to-Head. We spoke about "How to Live a Highly Influential Life." Not every topic needs to be a HOT for it to be an important. John Palumbo, the author of 10 best-selling books, speaker, world-traveler, and over-all inspiration, stopped by to discuss, "Living an Influential Life." Whether you are just starting out in new home sales or you are a veteran, you have unique gifts to share. John talks to us today about how to channel and grow those gifts into what could perhaps be your own book, but certainly into something that benefits others as you grow. We also took a detour into some skills for running inspired sales meetings and even some objection handling in a rising market. Learn the secrets that John invested in early in his career that has paid off in $Millions. This episode is definitely a different kind of Head to Head, but a journey well-worth taking. Sit back, relax, and breathe in some inspiration! You deserve it. If you missed it LIVE, click HERE to watch the recorded version.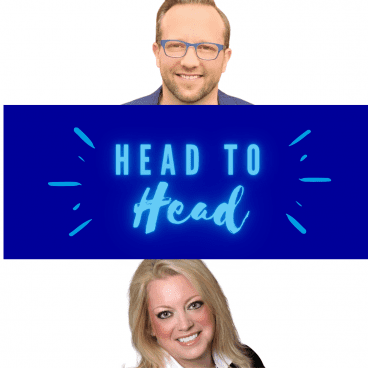 On February 16, 2021, Kimberly was joined by Chris Hartley, VP of Sales for K. Hovnanian Homes in Dallas. We had a lively discussion about throttling, or controlling your sales pace. What is working? What are the best practices so that you don't hurt your long-term prospects in your market? Should you continue to advertise? Price increases? Lotteries? General Real Estate Agents? Every action has an equal and opposite reaction, so how can you make sure you are managing for now and for the future when the market turns? Chris Hartley is known for being one of the most innovative and forward-thinking sales managers in our industry, and remarkably, he is willing to share his knowledge with you. If you missed it LIVE, click HERE to watch the recorded version.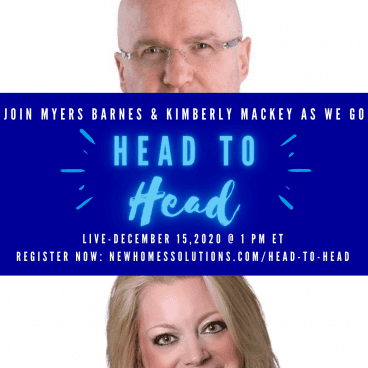 Did you miss the 1st Head to Head with Myers Barnes? Check it out HERE  So much has changed in new home sales this year, or has it? Myers Barnes and Kimberly Mackey went head to head in a full-blown, no holds barred discussion about the evolution of new home sales, and what each salesperson should be doing to create long-lasting, relationship-based, sales growth for their builders. If you have ever wanted the opportunity to be a fly on the wall when two industry masterminds get together, now is your chance!