Every month or so, Kimberly Mackey sits down with top industry leaders and masterminds to have an in-depth discussion on the hot topics related to building your business, managing your pipeline, technology trends, sales and sales processes, and anything related to the overall customer experience.
Not a webinar, not a podcast, just head to head, no holds barred discussions, where you can participate and get the answers to the questions you have about the evolution of new home sales and the homebuilding industry. This is your opportunity to be more than a fly on the wall when two industry masterminds get together!
You can register for one or for all of them so that you never miss out on whoever is "dropping by" and the hot topics we will cover. Live viewing is the way to go for these so that you can interact and get your questions addressed; however, we will record them if you have to miss one or two, you can still watch the recording.
So far, Kimberly's 2021 guests include:
Chris Hartley on February 16th. Our topic is, "Managing the Sales Pace. How to Keep Sales from Outpacing Land and Eroding Margins."
John Palumbo will join us on March 16th. Final topic TBD
Roland Nairnsey is stopping by on April 13th when our topic will be, "Do They Really Care?" What parts of the traditional sales process are dead and which parts are still very much alive.
The one and only, Quint Lears will join us on May 11th when we will learn how your personality type helps to define how you can thrive and succeed in any environment.
And, on June 22nd, Leah Turner, from Melinda Brody & Company will be here. Our topic is, "The Top 10 Mistakes Most Salespeople Make." We have the mystery shop data to back it up!
We will take a break in July, and then we will back on August 10th, September 14th, October 12th, November 9th, and December 7th with more must-see Head to Head Events. Stay tuned for more details.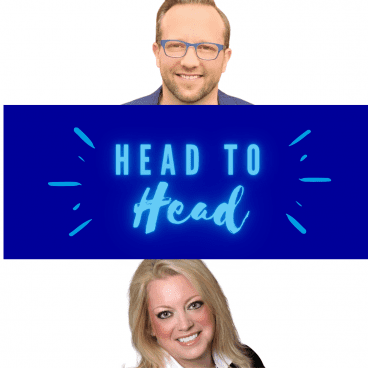 On February 16, 2021, Kimberly will be joined by Chris Hartley, VP of Sales for K. Hovnanian Homes in Dallas. We will have a lively discussion about throttling, or controlling your sales pace. What is working? What are the best practices so that you don't hurt your long-term prospects in your market? Should you continue to advertise? Price increases? Lotteries? General Real Estate Agents? Every action has an equal and opposite reaction, so how can you make sure you are managing for now and for the future when the market turns? Chris Hartley is known for being one of the most innovative and forward-thinking sales managers in our industry, and remarkably, he is willing to share his knowledge with you. This is a must-see-live event! REGISTER TODAY.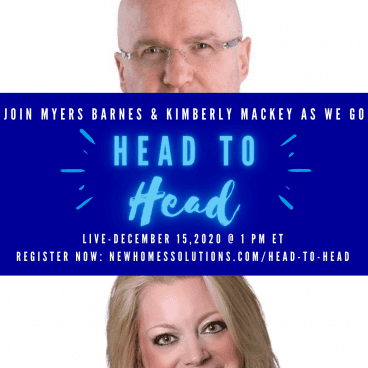 Did you miss the 1st Head to Head with Myers Barnes? Check it out HERE