At the International Builders Show in January 2018, Quint Lears caught up with me to ask me about sales management and the challenges our sales managers face in today's hectic sales environment. If you find that you or your teams are struggling to get it all done, hopefully a few of these tips will help you to master more in less time.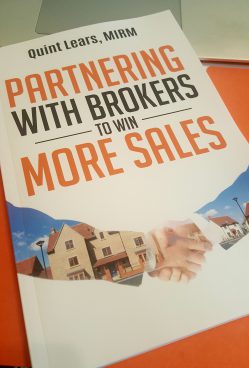 Be sure to check out Quint's new book, Partnering with Brokers to Win More Sales.  You can find it by visiting this link: Builder Books
You can also visit Quint's web site:  www.NewHomeSales.com for more information.
Kimberly Mackey is the founder of New Homes Solutions, and has reputation as someone with real world SOLUTIONS in a competitive and rapidly changing sales environment–SOLUTIONS like "50 Sales per Year before Any Walk-in Traffic". She is a keynote speaker and published author of many Sales and Leadership articles with 20 years of experience as an executive in the residential home building and real estate industry. She has a proven track record working with Builders and Developers of all sizes –from the local/regional companies to the publicly traded nationals. She also works with Brokers from across the country and is the architect and director of the highly successful Preferred Builder Partnership program with Berkshire Hathaway HomeServices Florida Properties Group where she works with 32 builders and over 600 agents.
For more information, or to book Kimberly for your next event, visit www.NewHomesSolutions.com, or visit Mackey at LinkedIn,www.linkedin.com/in/kimberlymackey; Twitter,www.twitter.com/KimberlyDMackey; and Facebook,www.facebook.com/NewHomesSolutions.