Challenge… Accepted
Let's face it, life is bursting with a variety of challenges. As the old saying goes – you win some, you lose some. They come in all shapes and sizes and show up during various times of our personal and professional lives. As a left-handed young girl, I thought a gigantic challenge was learning how to use right-handed scissors. Of course, challenges also come in the viral form. We had the popular "Water Bottle Flip", "ALS Ice Bucket", "Cinnamon", and of course the "Keke/In My Feelings" challenge to name just a few. Not necessarily all life-changing scenarios but a few could certainly be uncomfortable at a minimum! 😊
Let's consider three strategies related to life's challenges and obstacles and how to handle them with ease and grace:
1. Face adversity head on. It is very common that we avoid challenges, sometimes at all costs! If we truly want to be effective in our professional and personal life, we must run toward the problem, not away from it. Facing reality, whatever it may be, is a guiding principle that we should aspire to embrace. In the sales world, we are faced with countless obstacles and objections on a daily basis. How we view adversity mentally and emotionally is key. As David Weatherford said, "When faced with a challenge, look for a way, not a way out."
2. Grab the bull by the horns and take action! So life hands you a whopper. What are you going to do? Move toward the challenge, run the other way, or perhaps choose to do nothing? What matters most is not so much the size or complexity of what we've been given, but more so what we do with it and how we ultimately handle the situation. Having a plan of action to face challenges presented to you head on is an absolute. Being tactical and having confidence occurs when we are decisive and have the expertise and training to push forward. "It is time for us to stand and cheer for the doer, the achiever, the one who recognizes the challenge and does something about it." Vince Lombardi could not have said it any better.
3. Reflect on the outcome. After we successfully overcome roadblocks and challenges, whether big or small, it is essential to take some time to reflect on the outcome along with the events that occurred that may have been the culprit. It is only after we identify what it is that needs to be changed that steps can be made to begin to work toward that transformation. Challenges are not overcome by making them smaller, but by making ourselves bigger.
If you don't have a strong network of positive people to lift you up and cheer you on, then work toward building that network. A positive mindset is paramount to have a healthy emotional and physical life. Ridding our lives of negativity is key to being healthier and less stressed. When we make the decision to become more positive minded and follow it up with action, we will begin to encounter positive situations, and other positive people in our lives.
Are you too focused on nonessential things in your life? Perhaps you are saying "yes" much too often and allowing these things to take over your day. Saying "no" should not be viewed as a bad thing, but a positive. Start taking baby steps to weed out the unnecessary so you can work toward being more present for the things that matter most.
We will never be without some challenges and obstacles in our lives. After all, as John C. Maxwell wisely said, "challenges are what makes life interesting and overcoming them is what makes life meaningful."
E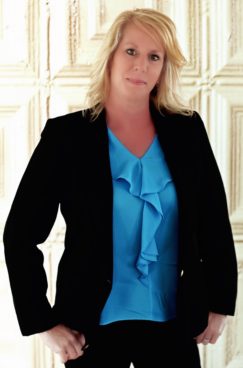 rica Lockwood joined the Joseph Chris Partners team in September 2000 and has since excelled within the company and the industry where she is well-known for being a leading executive search professional. In Erica's current role as Equity/Executive Partner, she helps support company initiatives, talent development and plays an active role in business development.
What makes Erica unparalleled as an executive search professional is her capacity to identify exceptional talent. Her perseverance and ability to understand each individual client's needs have allowed her to complete some extremely tough searches. Becoming a true strategic partner with her clients has created countless long-term relationships with companies who utilize her expertise year after year.
When she isn't focused on filling her client's searches, you will most likely find Erica enjoying spending time with her family at her lake home, kayaking or driving her Jeep Wrangler.
To contact or follow Erica on social media: Email: ericalockwood@josephchris.net, Website: www.josephchris.com,  Cell: 281.359.2142 Call OR Text, Twitter, Facebook, Pinterest